In-Salon Bridal Styling Hair & Makeup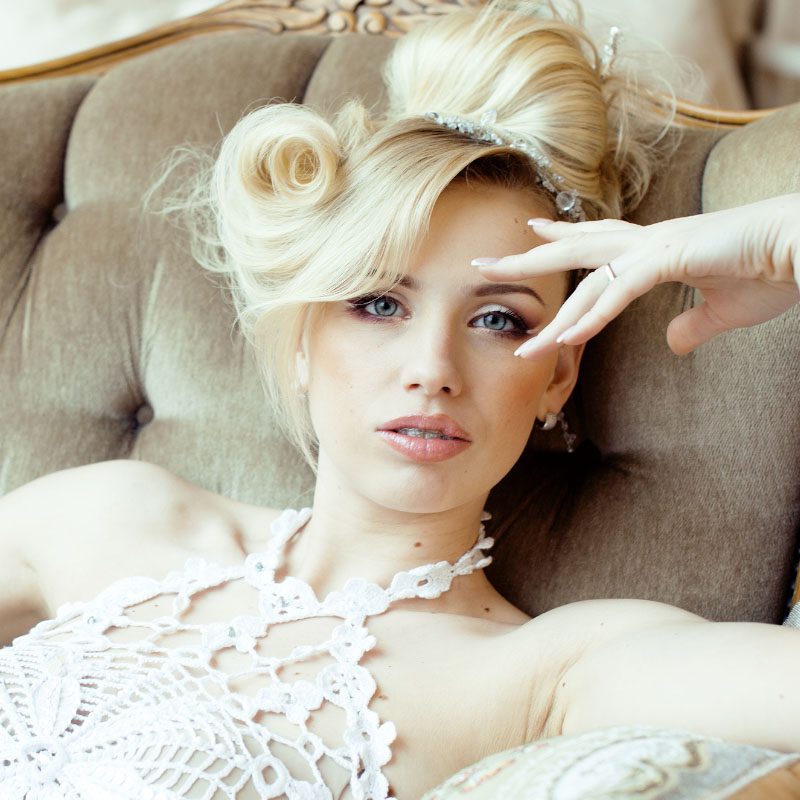 Of all your nuptial decisions, whether you are a guest family friend, or bride, choosing your Charleston Wedding Hair and Makeup can be challenging at best. Our Aveda Salon & Glam team specializes in these services. From your inspiration look to the latest Trend, we have the perfect hair spray, lipstick, and eyelashes, even if you are looking for that retro vibe. We are here to help you narrow down your bridal hair & makeup beauty look, with our 14 years of expertise.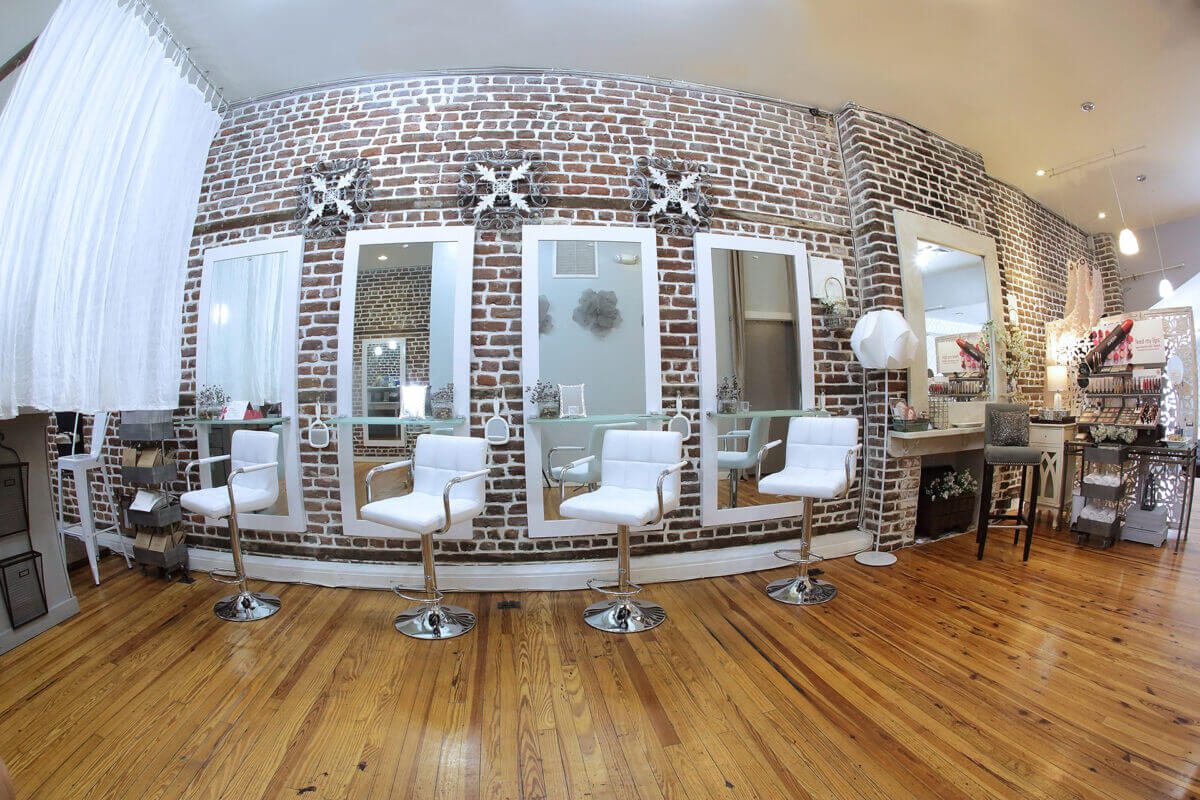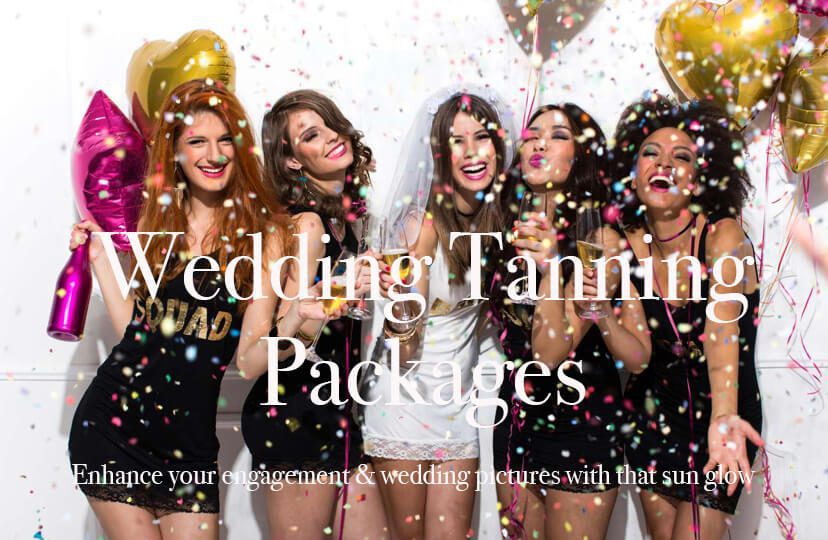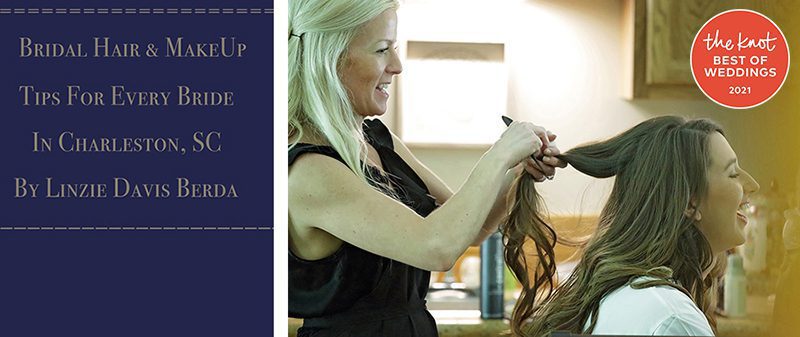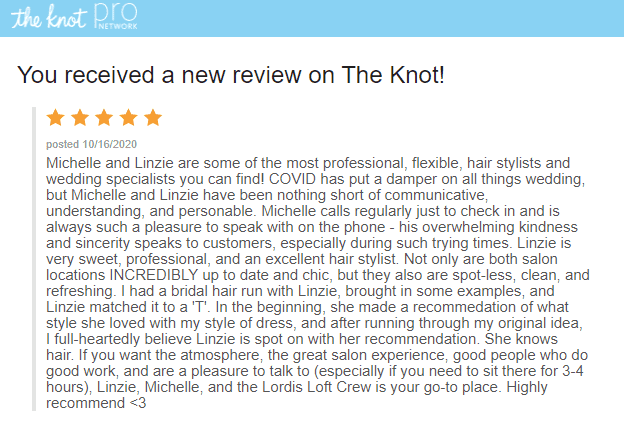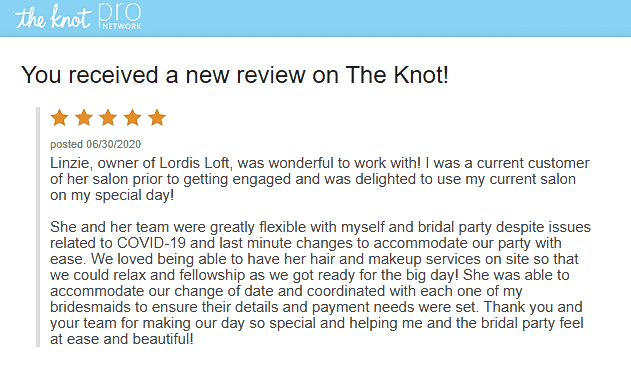 Book us 3 different ways;
ON-Site At Our Salon For Bridal Styling Hair & Makeup. (Download The Make Up & Hair Brochure Below)
Off-Site To Your Favorite Location For Bridal Styling Hair & Makeup(Call us For Request or Email us)
Rent Our Entire Bridal Studio (Download The Salon Rental Brochure Below)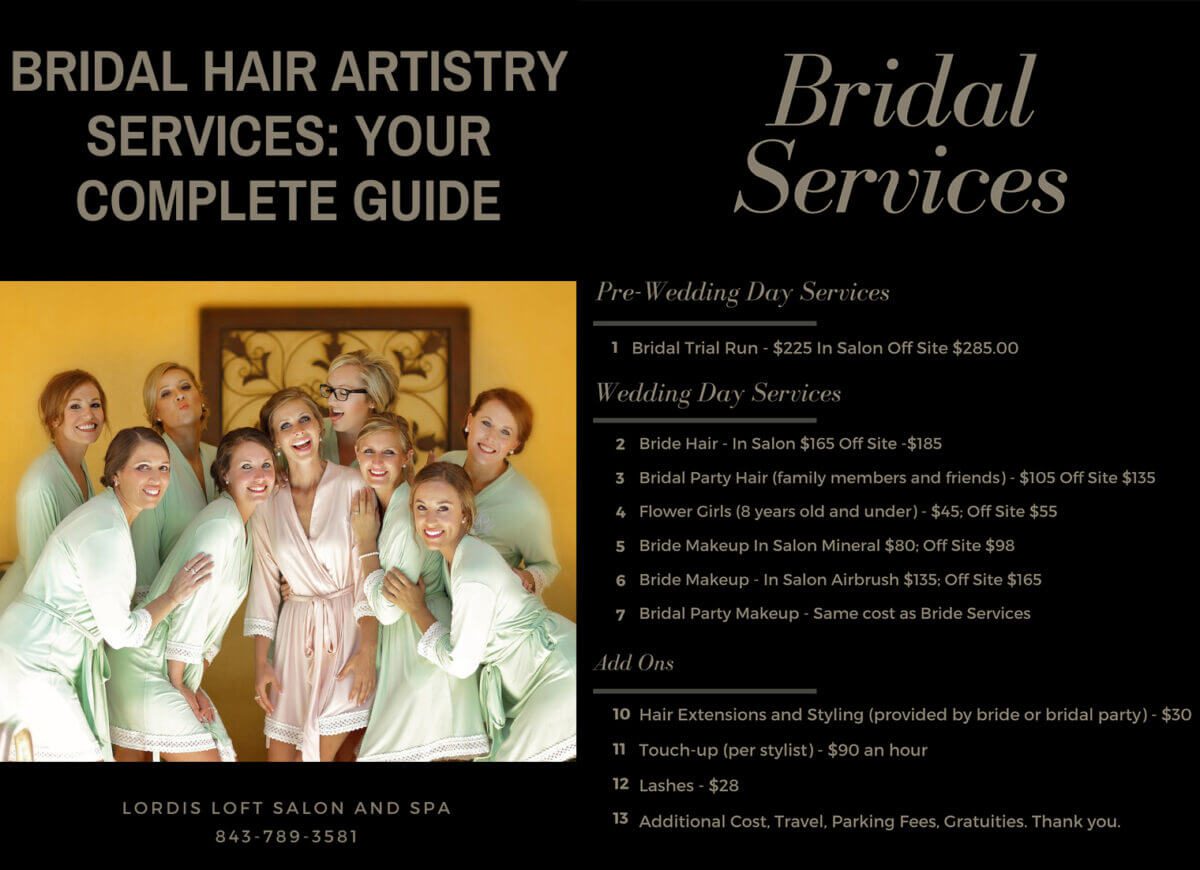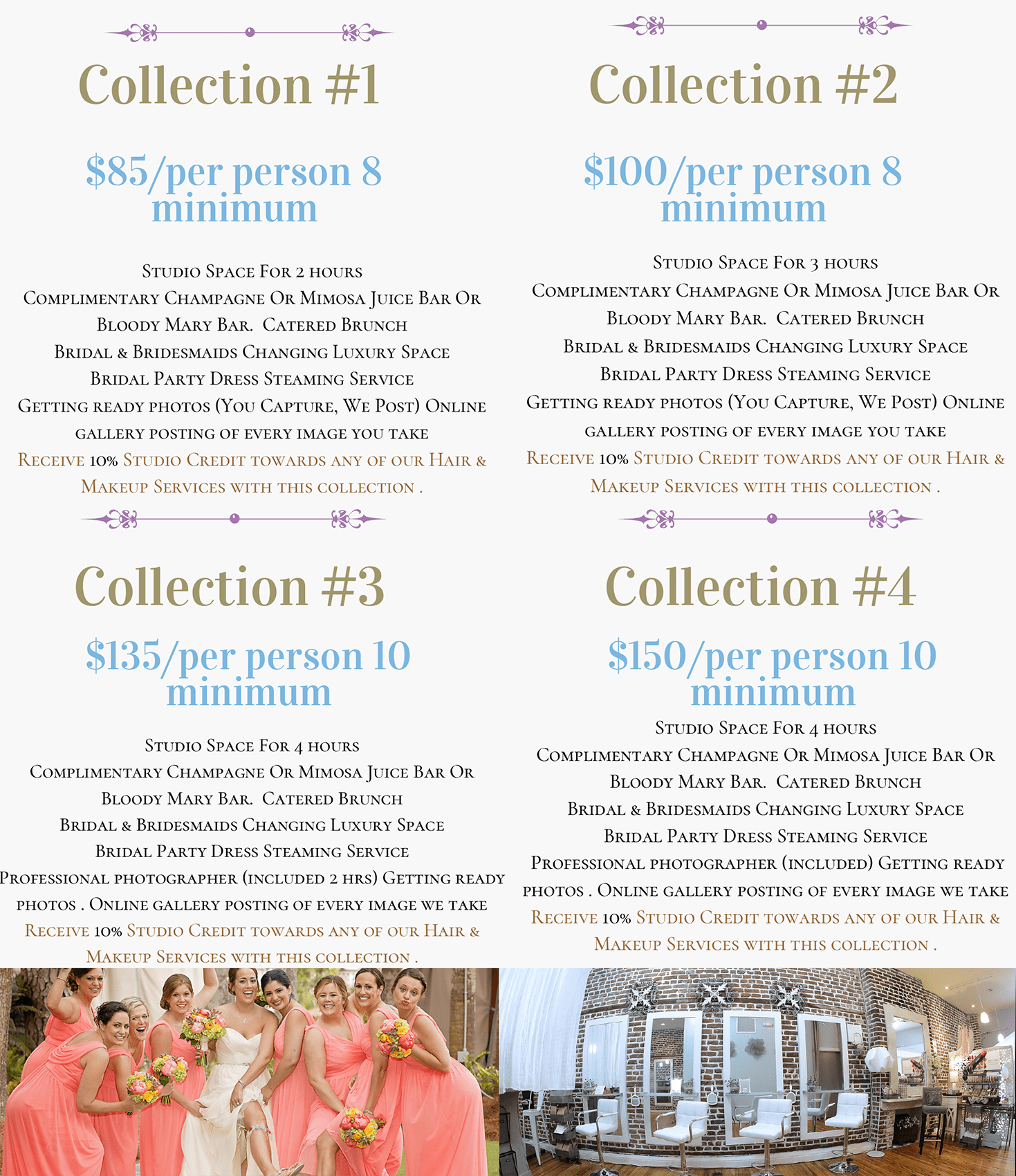 Off-Site Bridal Styling Hair & Makeup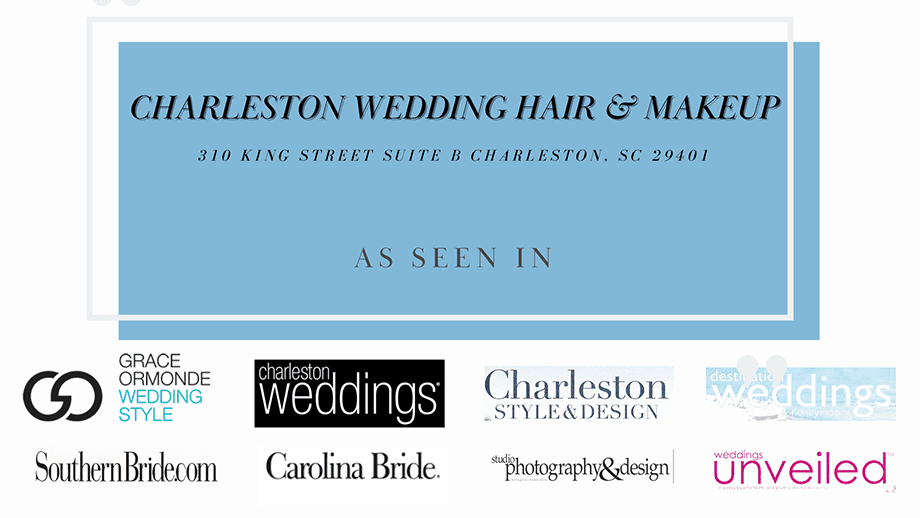 Bridal Services in Charleston, SC. This historic holy city, the second largest destination for weddings on the east coast. It is every couple's favorite choice for hosting their weddings. Its plantations, historic southern charm, rustic themes, beautiful backdrops, and rich Lowcountry soiree. Why we are most bride's top choices for Aveda bridal hair and makeup services. With knowledge and combined experience of over 3 decades, our team is here to exceed your expectation with our professional services by using the best in Aveda products for any of your wedding desires. Come visit us for your unique wedding experience.
We offer Bridal Services and world-class Aveda hair, makeup, and lashes options to make your special day beautiful.
Charleston Wedding Hair and Makeup in Loft Salon & Spa is the new wedding buzz in town, with its grand adventure for the wedding industry with its expansion featuring all newly engaged wedding couples, by creating Charleston Wedding Boutique, a newly well overdue concept where any wedding client can now walk into a physical store and meet 3 prominent wedding vendors that feature Aveda hair & makeup, a wedding coordinator, and

 King Street Photo Weddings 

a well established Charleston wedding photographer, with over 26 years of capturing wedding in our Holy City. This bridal boutique is centrally located in the heart of the best real estate in Charleston, SC at 310 King Street.
With this expansion comes our newly renovated bridal chic studio that is available for exclusive bridal party rentals for your wedding day! Our second-floor studio at 310 King Street, about 2600 Sq ft was constructed in 1800. filled with history including exposed brick, solid oak flooring, and beautiful original architecture. You will enjoy plenty of natural light including professional lighting for the perfect makeup and hair application. 
 Our boutique features large styling stations with grand mirrors, perfect lighting that is spot on. We feature Aveda products that are the global leader for sustainable beauty. See what makes this brand something truly special in natural living. and the highest quality professional products to beautify your bridal party. 
Your boutique all-inclusive rental package that includes complimentary Champagne Or Mimosa Juice Bar-Or Bloody Mary Bar and brunch for your fab girls by our favorite cater,(soon to be your favorite) a marriage of mouthwatering ingredients, gastronomic creativity that can adapt our offering to ensure your expectations are exceeded. 
 Needing these special memories to take with you? that is very possible by having us capture you're getting ready photos that are just that perfect while you enjoy our beautiful spacious bridal setting with exposed brick. We have the perfect boutique dressing room that is very spacious. Also, relax and allow our staff to steam your bridal party dresses while you receive our glam hair & makeup services
At Charleston Wedding Hair and Makeup, we recommend a trial run for all brides, however, it is not required. If you choose to opt-in on the trial run your stylists will try multiple styles and take pictures of your final look so your hair and makeup can be recreated perfectly on your wedding day. Our trial run sessions typically take 2 hours. We welcome you to bring your family to the trial run as well to have them with you during this exciting special time! 
 We are so proud to be celebrating 14 years in our amazing city of Charleston and have quite the reviews to show for. We strive to uplift the human spirit by inspiring each individual to illuminate their inner beauty by enhancing their outer beauty. Our boutique includes an eclectic array of stylists and artists with many decades and years of experience. You can view more here on meet our team featuring the best professional hair & makeup glam team in Charleston, SC. All of our glam artists at Lordis Loft Salon & Spa are licensed, certified, and highly trained. They stay current with the latest trends in bridal hair and makeup and will make you look like the best version of yourself that is our promise to you…! If you would like to book your special day with us we would be honored and require a non-refundable 50% deposit/retainer to secure your date and a signed hair & makeup wedding contract your remaining 50% balance is due one week prior to your wedding day. We gladly accept all major credit cards.
 If you are needing on-location hair styling & make up no problem. we love making your wedding date perfect. No Bridal party is too large and no venue is too far. Our sessions typically run between 3.5 -4 hours. Travel fees are at an additional cost to your chosen venues. We serve the greater tri-county of Charleston to include Kiawah, Seabrook Island We would love to take a road trip to travel to Hilton Head Island, Myrtle Beach, Columbia, and any of the surrounding areas. Feel free to ask and we most likely can accommodate any of your requests.
We look forward to hosting and glamming you all upon such an amazing event. Thank you so much for visiting this page.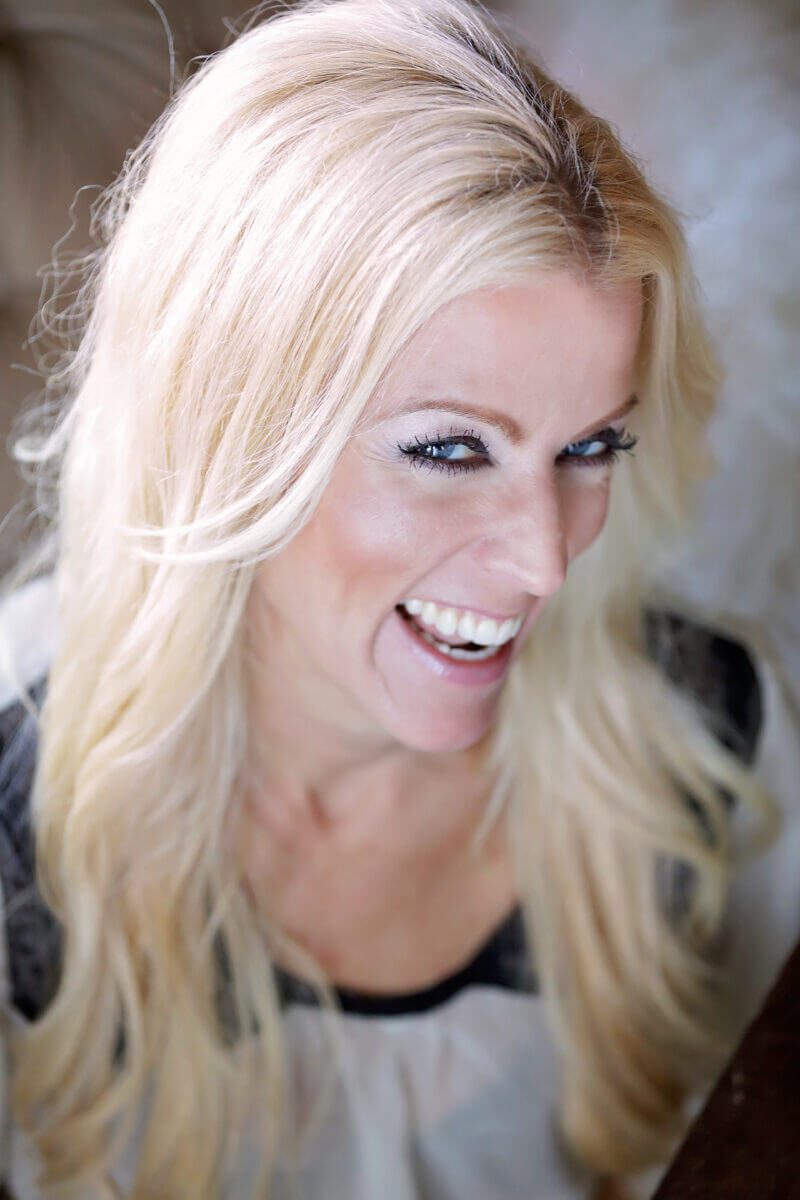 Policies
                             Appointment and Cancellation Policy
Your appointments are very important to our team members at Lordis Soft Salon, & Spa it is reserved especially for you, we understand that sometimes schedule adjustments are necessary; therefore, we respectfully request a 48-hour notice for all cancellations (NO exception). Bridal booking for services is non-refundable and a 50% retainer will be billed at the time of booking. 
 It is very important you know that we are closed on Sunday. Therefore we do NOT accept any rescheduling or cancelation on Sunday. You may cancel or reschedule your appointment from Monday thru Saturday (Only).Please call to cancel your appointment at 843-789-3581 for King Street or 843-718-1090 for Avondale. For after-hours; please email to cancel your appointment at email info @lordisloft.com. We DO NOT accept cancelation on the Chat BOD.
Please understand that when you forget or cancel your appointment without giving enough notice, we miss the opportunity to fill that appointment time, and clients on our waiting list miss the opportunity to receive services. Our stylists are also there to do business and cannot be left with an empty seat. Our appointments are confirmed by our staff with you a week & day before in advance because we know how easy it is to forget an appointment you booked months ago. We cannot be liable for leaving messages to inform you of your upcoming appointments that are not returned. 
Since the services are reserved for you personally, any appointment canceled or rescheduled without the 48-hour notice will result in a charge equal to 100% of the reserved service amount. Our policy reserves the right to require a major credit card/debit card for scheduling of all appointments. We thank you in advance for respecting our time and our policies.
                                                                         Services
Client satisfaction is important to us! If you have questions or concerns about a service you are getting or have received please do not hesitate to reach out to me Linzie at 843-789-3581. Monetary refunds will not be made for hair services rendered, however, we will happily make adjustments to the original service. Requests for haircut or hair color adjustments must be made within 7 days of the original appointment; most corrective color processes require multiple visits, because of this color adjustments do not apply to corrective color appointments. 
Ready to book your appointment?